Alternatives to Microsoft's SQL Server Management Studio
 1.)    LINQPad      Tired of querying in antiquated SQL?
Well, you don't have to!  LINQPad lets you interactively query databases in a modern query language: LINQ.  Kiss goodbye to SQL Management Studio!
LINQPad supports everything in C# 4.0 and Framework 4.0:
LINQ to Objects
LINQ to SQL and Entity Framework
LINQ to XML
Parallel LINQ
And that's not all – you can also query:
LINQPad is also a great way to learn LINQ: it comes loaded with 500 examples from the book, C# 4.0 in a Nutshell.  There's no better way to experience the coolness of LINQ and functional programming.
And LINQPad is more than a LINQ tool: it's an ergonomic C#/VB/F# scratchpad that instantly executes any expression, statement block or program with rich output formatting – the ultimate in dynamic development. Put an end to those hundreds of Visual Studio Console projects cluttering your source folder!
Best of all, LINQPad standard edition is free and can run without installation (or with a low-impact setup). The executable is 3MB and is self-updating. There is even a version that runs in Google Chrome.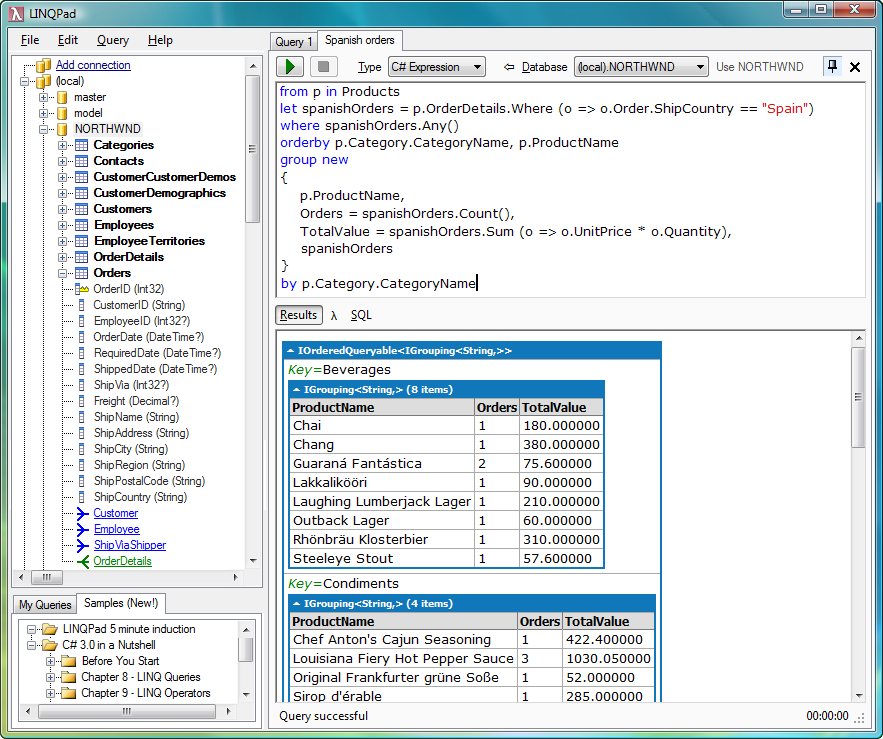 Prerequisites
LINQPad requires .NET Framework 4.0 (or Framework 3.5 for LINQPad 2.x).
If you have Visual Studio 2010 or Visual C# 2010 Express, Framework 4.0 will already be installed.
LINQPad supports SQL Express, SQL 2008, SQL 2005, SQL 2000, SQLite, MySQL and Oracle.
Download LINQPad
Four download options:
Standalone Executable
Low-Impact Setup
SqlDbx is a fast and easy to use database SQL development IDE for database administrators and application or database developers who work in heterogeneous Database Server environments. SqlDbx built around an advanced SQL Editor and Database Object Explorer. SqlDbx provides a consistent user interface between different DBMS Systems. The intuitive and straight forward interface allows developers to improve their productivity by having easy access to the most commonly used features. Run queries, execute scripts and browse database objects without leaving editor window. SqlDbx is a standalone executable file, so no installation is necessary. Furthermore, SqlDbx does not install or modify anything on the user's computer.
Features at a glance:
High performance native support for major Database Servers including Microsoft, Sybase ASE, Oracle and IBM DB2/UDB
Browse / Explore Servers
Fast, intelligent, extensive and highly customizable Intellisense
Advanced Script Editor with Syntax highlighting, Auto Complete, Speed Typing, Script Variables, Drag/Drop, Column (Block) Mode
Automatically highlight matching parenthesis for BEGIN/END, IF/END IF, CASE/END, … SQL blocks
Full Unicode support
x86 and x64 Versions
Visual Schema and Data Diff, File Diff, Quick Diff
SQL Object Scripting
SQL Formatter / Beautifier
Generate SELECT, INSERT, UPDATE, DELETE, CREATE, WHERE IN data modification statements directly from Result Grid
SQL Templates with support for formal parameters
Parameterized Queries and substitution variables
Import / Export to CSV, XML, Excel
Schema Object browser
SQL statement execution history
Favorite objects. Find object
Search in Database and in Result Grid
Directly edit table data in Result Grid
Sort, filter, format, retrieve parent / child data rows, export and transpose data in Result Grid
Execute procedures and functions with automatic argument specification
Display query plan and query statistics
Administrative Views
Portable mode
Simple deployment and removal. No dll's or other dependencies. Just one executable (1.9 meg.)
Supported DBMS Systems
Oracle ® 8i – 11g
Microsoft ® SQL Server 6.5 – 2008
IBM DB2 LUW ® 7.x – 9.x
IBM DB2 z/OS ® 7.x – 9.x
IBM DB2 iSeries ® 5.x – 6x
Sybase ASE ® 10.x – 15.x
Sybase Anywhere ® 9.x – 11.x
Sybase IQ ® 12.5 – 15.x
MySQL ® 5.x
PostgreSQL ® 8.2.x – 9.x.x
Informix ® 9.x – 11.x
Kdb+ ®
ODBC 3.0 compliant sources